Injured seal pup rescued in Alderney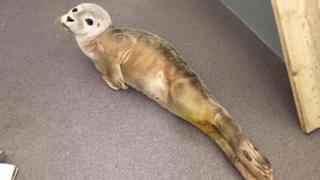 An injured and sick seal pup has been rescued after it was spotted by a fisherman.
The common seal was rescued by the Alderney Wildlife Trust after it was reported near Platte Saline, on the edge of a Ramsar site.
After initial treatment, it was transferred to Guernsey's animal shelter.
It is the second common seal, which are rarely seen off the Channel Islands, to be rescued in a week.
The Guernsey Society for the Prevention of Cruelty to Animals (GSPCA) said the pup had a number of injuries and will need rehydrating, tube feeding and veterinary treatment.
Manager Steve Byrne said: "In the last five years we have rescued, rehabilitated and released five grey seal pups locally, but it is extremely rare to see common seal pups around the Channel Islands.
"Common seals breed from August and with two having been seen, we want to issue advice not to approach a pup seen on the coast but to call us for advice or check our website as you could scare their mothers away."
He said if possible the pup would be released back into local waters.
Mr Byrne said the island's animal societies often worked together: "We have already helped with a buzzard and 15 cockatiels from Alderney in the last few months and a long eared owl from Sark, which will hopefully be going back very soon."