Leale's Yard and Admiral Park plans given approval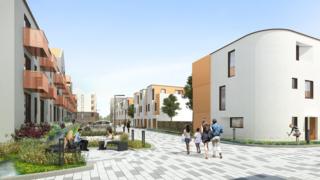 Plans for two major developments in Guernsey's Leale's Yard and Admiral Park have been approved by the States.
However, concerns about the impact on traffic and a lack of parking were raised in relation to both proposals.
The Admiral Park outline was agreed after 200 extra parking spaces were added and further traffic management is expected in the final proposal.
The construction of more than 400 homes at Leale's Yard, St Sampson, was approved but with conditions.
Those conditions include addressing the lack of parking, ending the overlooking of private properties and an investigation into whether the mini-roundabout on Northside should be replaced by a filter or traffic lights.
The site covers just over seven acres and development plans have been discussed since 2004 with most of the site vacant and underused.
Colin MacLeod, chief executive of site owners the Channel Islands Cooperative Society, said: "I'm confident the conditions won't be too onerous... we don't want to overlook people, we don't want to be bad neighbours."
The Admiral Park plans, submitted by developer Comprop, are for 13,800 sq m (150,000 sq ft) of office space as well as areas for leisure, including a cinema, community spaces, medical and creche facilities, a hotel, retail, food outlets, an exhibition space and some residential spaces.
Developers Comprop said in a statement that as well as the 722 car parking spaces, they were also providing 258 cycle and 60 motorcycle spaces along with road improvements "designed to reduce congestion".
The approval was described as a "huge boost" for the construction industry by Eric Legg, chairman of the Construction Industry Forum.