Alderney Tapestry creator receives British Empire Medal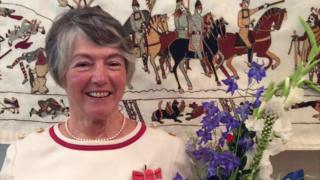 The woman behind the "new ending" to the Bayeux Tapestry says her British Empire Medal is one to be shared by Alderney's community.
Katharine Russell was presented with the honour by Guernsey's Lieutenant-Governor, Vice Adm Sir Ian Corder.
Mrs Russell said: "Obviously I'm thrilled personally, but much more so for our whole community.
"I take this away as probably the best day of my life."
Speaking about the tapestry, Mrs Russell said: "This was only an idea I had, it required the support of so many others and from start to finish this community has backed me up and given me the sense of pride they all feel in what we've accomplished."
The Alderney Tapestry
It is a 10ft tapestry showing what the two missing panels of the Bayeux tapestry might look like
The designs were verified by experts from Oxford University
Stitching commenced in February 2012 in Alderney's public library and drew many volunteers, from novice stitchers to seasoned regulars
More than 400 people contributed from a four-year-old to a 100-year-old
The Prince of Wales and Duchess of Cornwall were among the stitchers
The project was completed one year to the day after the first stitch was made
In 2014 it went on display in the Bayeux Museum in the room next to the famous tapestry
Alderney (and the Channel Islands) has formed part of the Duchy of Normandy since 933
Originally a US citizen, librarian Mrs Russell settled in Alderney and became fascinated with the Bayeux tapestry in neighbouring Normandy.
She was awarded the BEM in the 2016 New Year Honours List in recognition of her services to heritage and culture in Alderney.
Vice Adm Corder said: "The whole Bailiwick can rightly be proud of Mrs Russell and her remarkable achievement which engaged the whole community of Alderney as well as many visitors, including the first in line to the throne.
"The project has done much to reaffirm the islands' long-standing cultural links with Normandy and to highlight their heritage, on both sides of the Channel."