Damning boat crash report finds multiple errors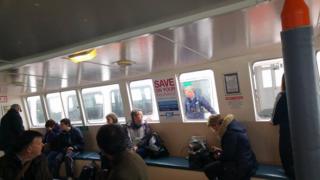 Failure to properly declare a passenger ferry crash "could have led to loss of life", a damning report finds.
Travel Trident V was carrying three crew and 35 visitors from Guernsey to Herm Island when the boat hit a reef in poor visibility on 22 April 2016.
The report says if water had entered the vessel, the crew's failure to use the boat radio could have been fatal.
A report on a second crash involving the same boat in June is also being undertaken.
The Serious Marine Casualty report on the April incident states that "no emergency procedures were followed on board" following the crash.
"The passengers were not kept informed of the situation other than one very brief announcement by the Engineer which was confusing and, due to the poor content, caused concern rather than put them at ease," it says.
Mobile telephone was used to alert the boat's sister vessel Trident VI and the harbour workboat Sarnia that help was needed.
But the report says this prevented the coastguard and surrounding shipping to monitor the situation which, if water had entered the boat, "could have led to the loss of the vessel or the loss of life due to delays in responding".
---
What the report found
Insufficient passage planning for the voyage
No company guidance on approved routes nor were there any navigational risk assessments
Repetitive nature of the voyage created "complacency"
A culture in the team where crew "did not feel they were able to question the Master"
Mobile phone was used to alert a sister vessel that help was needed, but this prevented coastguard and other shipping from monitoring the situation
If water had entered the boat the use of the mobile phone could have led to loss of vessel or loss of life due to delays in assistance
---
Harbourmaster Captain Chad Murray said "the potential of this accident is significant" and that the incident had not been declared as an emergency.
The report said that the Trident could make eight to 10 trips to Herm and back a day in the summer season, which had led to a complacent attitude.
"Complacency is a really difficult issue on liner-type routes.
"It is something that is recognised within the industry as one of the main contributory factors to an accident".
The Trident Charter Company has since introduced a range of safety and navigational improvements. The Master will have to take an exam and undertake a radar operator course.
Peter Wilcox from the company said: "We are conscious that we have to address the problems that poor visibility creates combined with operating through Alligande Passage at low tide... the company has since introduced additional procedures and is sourcing updated navigational equipment with no expense spared."