Channel Islands air search plane delayed to 2017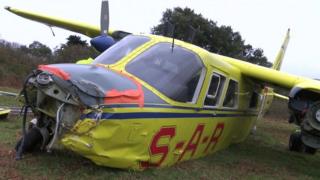 The Channel Islands will not have a new air search plane until 2017, according to the new head of the service.
The old Trilander known as the Lion's Pride came down in 70mph winds on Jersey's north coast in 2013.
A replacement was planned for the end of 2016 but is now not expected until March 2017.
Mark Harrison of the Channel Islands Air Search charity (CIAS) said his main priority was getting it operational and preparing its hangar in Guernsey.
"Everybody in the Channel Islands has got a very very strong wish and vested interest in having such an aircraft here", he said.
He said the aircraft, which is funded by contributions made almost exclusively in the Channel Islands, costs about £150,000 a year to run and is operated by volunteers from the CIAS.
It is the only air search plane in the islands and the CIAS has been leasing another plane since the crash.