Alderney 'should bid' to run own flights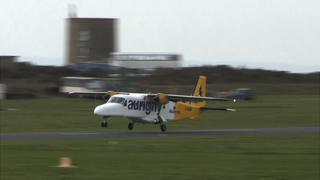 The States of Alderney "should bid" to run its own air services due to the "level of dissatisfaction".
The offer from Guernsey's senior politician, Deputy Gavin St Pier, follows concerns over the service.
Guernsey States owns airline Aurigny, which connects Alderney with Guernsey and Southampton.
Mr St Pier said in a letter to Robert McDowall, chairman of Alderney's Policy and Finance Committees, that the tendering process could start in 2017.
'Appetite exists'
He said: "I wonder if this presents an opportunity to the island's community, given the level of dissatisfaction that you have identified with Aurigny's services.
"My impression is that there is an appetite that exists within Alderney for an airline controlled, owned and/or managed in the island to operate the services."
Guernsey's States Trading Supervisory Board said in another letter to Mr McDowall that although 179 Aurigny flights were cancelled between February and June, 158, or 88%, of them were due to bad weather.
It added that 492 flights were delayed, 196, or 40%, of them by bad weather, 117, or 24%, by technical problems and the remainder due to other issues with crew, fuel and baggage.
Mr McDowall said he was "content with the response" and it was now for the people of Alderney to have their say on what has been suggested.
He said Alderney States will continue with plans to extend the runway and in the long term he believes a public-private partnership will be established.