Fishermen rescued after boat sinks off Alderney coast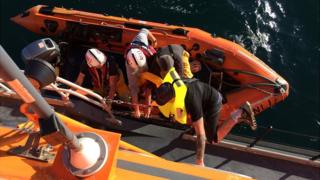 Two fishermen were rescued from rocks after their boat sank off Alderney.
The men were "fortunate" it happened so "close to an outcrop of rocks", the lifeboat's coxswain Declan Gaudion said.
The Mar Rose sank about 200m (650ft) from the shoreline at Chateau a L'Etoc, on the island's north coast.
The men onboard swam about 30m (100ft) to reach the safety of Grois rocks, where they raised the alarm at about 07:00 BST.
Lewis Main, skipper of the fishing vessel, said: "We started rapidly taking on water and started to sink.
"We quickly jumped into the water and swam to the nearby rocks [where] fortunately, we were able to make a 999 call."