'Big drop' in Guernsey rubbish production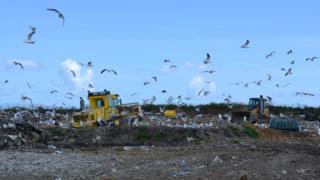 The amount of rubbish produced in Guernsey dropped to its lowest ever recorded in 2015, according to a waste report.
The amount of rubbish sent to the Mont Cuet landfill was less than 30,000 tonnes, a 9% drop on the year before.
There was also a fall in the amount of construction and demolition waste.
Longue Hougue saw a 21,000 tonne drop in building material sent in in 2015 over the previous year.
States Trading Assets, responsible for the landfill sites, said the reduction was mainly down to changes in how commercial waste was dealt with.
A spokesman said it was due to a high volume now being sent off island as refuse derived fuel, rather than going into landfill.
Earlier in 2016 the States of Guernsey confirmed it would send burnable waste to Sweden to be incinerated.
There was also a significant reduction in household black bag waste, which coincides with the introduction of kerbside recycling.