Guernsey fishing ban challenge rejected by High Court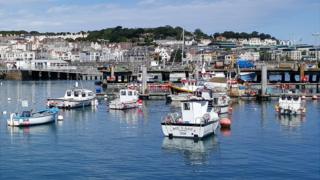 A legal challenge to a UK government decision to suspend a fishing agreement with the Bailiwick of Guernsey has been dismissed in the High Court.
The review examined the suspension of the Fisheries Management Agreement by the Department for Environment, Food and Rural Affairs (Defra) last August.
Guernsey States argued the move had "hammered" the Bailiwick's fishermen.
Mr Justice Jay ruled the "intransigence of Guernsey's position" was at least in part responsible for the "impasse".
Alleged over-fishing
The judge said the "immediate flashpoint" was alleged over-fishing of skates and rays by a single Guernsey vessel.
With island catches of those species being included in EU quotas, UK fishermen felt they were being "unfairly penalised for the uncontrolled actions of a small number of Guernsey vessels".
Most of the island's fishing fleet catches crabs and lobsters, which are not subject to quotas.
Mr Justice Jay said Defra had considered "a range of possible options" before the suspension and had struck a "fair balance".
Fisheries Management Agreement
The licensing deal came into force on 1 February 2013
Previously only the three nautical mile (nm) limit was controlled, with fishing between 3-12nm - an area about 1,000 sq nm of sea - unregulated since 2007
Anyone wanting to fish commercially within 12 nm around the Bailiwick - Guernsey, Alderney and Sark - has to be licensed
Those fishing without a licence can face fines of several thousand pounds as well as the seizure of their catch
The suspension meant Guernsey vessels more than 10 metres (33ft) in length could no longer fish outside the 12nm limit or land their catches in EU ports
Deputy Peter Ferbrache, president of the committee for economic development, described the judgment as "disappointing", but said defending the rights of local fishermen was "absolutely the right thing to do".
He said: "We will now need to negotiate with the UK to reinstate reciprocal licensing and to seek a new fisheries management agreement.
Referring to the recent UK referendum decision to leave the EU, he added: "This is an interesting time to be negotiating the application of EU measures in Bailiwick waters."
The court ruled the treatment of non-legally binding memorandums of understanding - of which Guernsey has a number with the UK - can be subject to review by the UK courts.
Deputy Jonathan Le Tocq, external relations minister, said it "confirmed that the UK cannot treat us unlawfully, and its actions must be justified".
The States expects to face a bill of under £70,000 for its costs, but will also be liable for the UK's costs.