School science labs 'posed serious risk'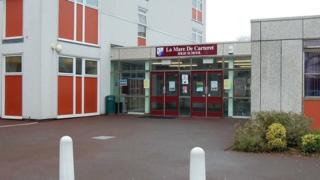 Science labs in a Guernsey school were closed because they had potentially fatal problems, according to the Health and Safety Executive.
Chief Health and Safety Officer Robin Gonard said they found "multiple issues" with gas and electrical safety and with the storage of chemicals.
Three laboratories closed in July for refurbishment over the summer holidays.
The President of the Education, Sport and Culture Committee, Paul Le Pelley, insisted no pupils had been at risk.
The safety concerns were raised by an Education staff member, who then alerted the HSE.
Mr Gonard said the labs were closed because of "the potential to kill or seriously injure people".
He said members of staff in particular were in a "potential risk situation".
He added: "It's to their [Education's] credit that they have commissioned these audits into science lab safety.
Problems with gas and electrical safety were related to "maintenance" while the storage of chemicals was "largely an issue with procedures", Mr Gonard said.
La Mare de Carteret School declined to comment.
Deputy Le Pelley told the BBC that "the area had been put out of bounds to children" and "no lessons had been scheduled for the labs".
"We would never do anything to put children's safety at risk," he said.
Guernsey's government's current plans are to cut the number of secondary schools from four to three leaving the future of La Mare de Carteret School, once described as "beyond repair", uncertain.
Interim repairs to the school have been carried out including roofing, window and door servicing and carpentry work.
Deputy Le Pelley said his committee was "considering the options for the school" but that the building would "definitely be in use for the next three to four years".