Tributes paid to Guernsey politician Dave Jones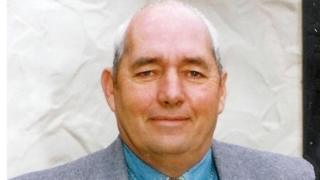 Politicians in Guernsey have gathered to pay tribute to a "very special" politician, Deputy Dave Jones, who died earlier this month aged 66 following a long illness.
Colleagues, family and friends gathered to remember him at a funeral service at the Vale Church.
One of Guernsey's longest-serving deputies, he was known for his "strong beliefs" and "determination".
Flags on government buildings are being flown at half-mast.
Deputy Jones was first elected as a representative for the Vale parish in 2000. In 2004 he became housing minister, a post he held for 12 years.
He later served as president of the States Trading Supervisory Board after being re-elected for a fifth political term in April.
A special States meeting was held following the funeral service for politicians to pay tribute to their colleague.
Guernsey's Bailiff Sir Richard Collas called him "a very special person" who "made an enormous contribution" to the parliamentary assembly.
"He was a man of great integrity - there was no side to him, no hidden agendas."
Fellow long-serving Vale deputy Mary Lowe called him "a caring friend and colleague" with a "unique way of getting his point across, often using humour".
"Not only the Vale, but the Bailiwick and beyond have seen a hard-working committed States member for the last 16 years".
President of the Policy and Resources Committee Gavin St Pier said Deputy Jones was "plain speaking" and "sought to give a voice to those who he felt did not have a voice".
Deputy Jones leaves behind his wife Bonnie, his two children Nathan and Emma, and his grandchildren.