Yacht grounded on Brehon Tower rocks towed to safety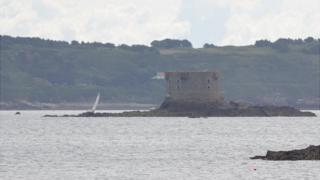 A French yacht grounded on rocks between Guernsey and Herm has been towed to safety.
It is not clear when the Marateu grounded but Guernsey Coastguard was alerted by a local fishing vessel Asile Sur at 06:25 BST.
The St Peter Port lifeboat's crew found one person on board who was unwilling to leave.
The yacht was towed to St Peter Port Harbour by the harbour workboat Sarnia after it refloated on the rising tide.
A Guernsey Coastguard spokesman said there did not appear to be any structural damage and it had not been taking on water.