Guernsey's EU waters fishing ban 'devoid of logic'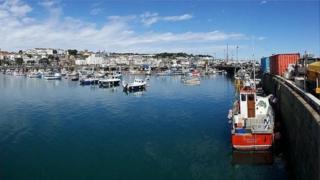 A ban on Guernsey fishermen working in EU and UK waters was "devoid of logic", the High Court has been told.
The island's government is fighting the indefinite suspension of the Fisheries Management Agreement by the Department for Environment, Food and Rural Affairs (Defra).
It was introduced in July 2015 over the lack of produce quotas being enforced.
Lawyers for the States of Guernsey said the decision has "hammered the livelihoods of dozens of fishermen".
The suspension of the fishing deal means Guernsey fishermen cannot operate in UK or EU waters.
Defra has contested the legal challenge, saying the ban is "rational". It claims the Bailiwick refused to apply EU quota controls, but Guernsey maintains it was never part of the deal.
The States' barrister, Marie Demetriou QC, said the decision was "irrational" and had been taken without notice.
Excluding them from EU ports was devastating as France is a "significant market", she added.
Guernsey fisherman Stephen Fallaize said his licence, which cost £15,000 and was worth more than £43,000 in 2015, was now "completely valueless".
Mr Justice Jay said he would reserve his judgment on the case until a later date.
The States would not comment ahead of a judgement being made.
---
Fisheries Management Agreement
The licensing law came into force on 1 February 2013
Previously only the three nautical mile limit was controlled, with fishing between 3-12nm - an area about 1,000 sq nm of sea - unregulated since 2007
Anyone wanting to fish commercially within 12 nautical miles (nm) around the Bailiwick - Guernsey, Alderney and Sark - has to be licensed
Those fishing unlicensed can face fines of several thousand pounds as well as the seizure of their catch
The ban in 2015 came with the suspension of the FMA, which has not yet been reinstated
---