Seagull pelted with stones on Guernsey beach dies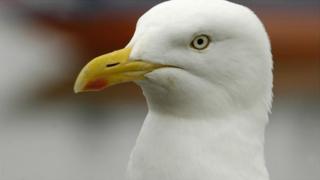 A seagull was "stoned to death" by a group of teenagers on a beach.
The GSPCA animal shelter was called to help a seriously injured herring gull at Vazon beach in Guernsey on Saturday.
Police are now investigating reports that a group of teenagers was seen throwing stones at the bird, causing a fatal fracture.
Staff at the GSPCA said the gull was unable to fly when they found it and that it had sustained an open bleeding fracture.
The animal shelter said it had been contacted by some teenagers who reported seeing a group throwing stones at the bird.
Staff reported the incident to Guernsey Police, who have now launched an investigation.
The government vet is due to carry out an autopsy on the gull on Tuesday.
The RSPB lists the herring gull as a red listed species of conservation concern.
The charity says the birds have dropped in number at their coastal sites by more than 50% since 1969.