'Remote' chance of finding Steven Corbet alive, police say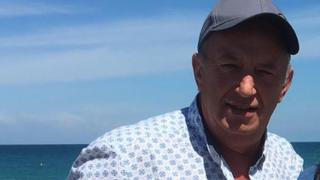 Guernsey Police has said the chance of finding missing man Steven Corbet alive and well is "remote".
Officers said two "victim recovery" dogs are being brought to Guernsey as the search continues.
Stephen Corbet, 58, was last seen getting off a bus at Portelet Bay in the south-west of the island on the afternoon of 27 June.
Mr Corbet is said to be 6ft tall with receding greying hair and walks with a limp due to several knee operations.
'No trace'
A police spokesman said: "Our officers carried out an extensive search of the Pleinmont area for 10 days following Steven's disappearance, but found no trace of him.
"As a result we must reluctantly acknowledge that the chances of finding him alive and well are remote."
A major search involving door-to-door questioning by police, inshore rescue boats, and an aerial drone have not helped in the search.
Mr Corbet was last seen wearing blue jeans, a blue T-shirt and carrying a black rucksack.