Senior Guernsey politician David Jones dies after long illness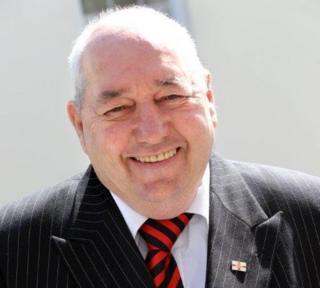 Guernsey senior politician, Deputy Dave Jones, has died at the age of 66 after a long battle with cancer.
Mr Jones was elected as a deputy for the Vale parish in 2000 and served as the island's Housing Minister for 12 years.
Since being re-elected in April 2016 for a fifth political term, he has served as President of the States Trading Supervisory Board.
His colleagues have called him "a wonderful and inspiring man".
Deputy Lyndon Trott said he was "a tireless and passionate advocate for his parish and for his constituents."
Flags are being flown at half-mast on government buildings as a mark of respect for Deputy Jones, who died on Tuesday morning.
Dave Jones was born in the UK and was a ward of the Barnardo's charity before moving to Guernsey where he raised a family with his wife, Bonnie.
He threw himself into political life and was the longest serving member of Guernsey's Policy Council.
He was known as a politician who was determined to help Guernsey's most vulnerable families.
Paying tribute, Guernsey's Bailiff Sir Richard Collas said: "Deputy Dave Jones was one of our most passionate, and compassionate, politicians devoted to his adopted island, to islanders and in particular to his parishioners on whose behalf he worked tirelessly even when struggling with ill health.
"He was a man of strong beliefs which he expressed with clarity and conviction. His speeches in the States of Deliberation were well received and his sense of humour always shone through."
Deputy Jones leaves behind his wife, Bonnie, his two children Nathan and Emma, and his grandchildren.