Plans to dig up garden and relocate war memorial 'outrageous'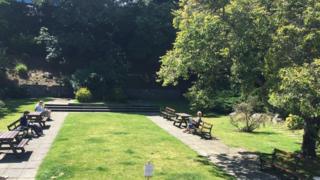 Plans to dig up the "only green spot" in an island town and relocate a war memorial have been called "outrageous".
The Committee for Education, Sport and Culture submitted the application to replace The Sunken Gardens in St Peter Port with a piazza and for a war memorial to be relocated there.
A petition has been signed by more than 500 people in 24 hours against the proposals.
The States of Guernsey will consider the plans within the next few weeks.
Former Guernsey resident, Alvin Furrer, who launched the petition, said: "The gardens themselves are unique as they provide a refreshing, green, peaceful corner right in the middle of St Peter Port.
"It is the only such quiet, green spot open to the public in the heart of town."
He said people had told him they were against both moving the memorial to a new piazza and the "destruction of the gardens".
"There is no justification for either and to replace the gardens with a modern looking, unattractive piazza is quite simply outrageous," he said.
But Denis Le Moignan, a town constable, supported the plans - especially relocating the war memorial.
He said: "It faces down towards Smith Street, and it's on a hill facing two directions. Most people who attend memorial services can't see [it]."
One campaigner, Samantha Gillet, said she intended to use an ancient Norman custom called the Clameur de Haro to force a judicial review to block the development.
"If someone cries the Clameur de Haro you have to listen to it, and it has to go through the court. If I'm asked to do it, I will," she said.