Eight from Channel Islands make Queen's Birthday Honours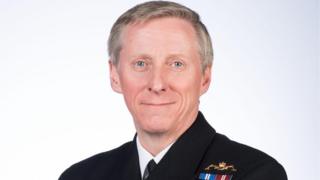 Guernsey's lieutenant-governor is among eight people in the Channel Islands to make the Queen's Birthday Honours list.
Vice Adm Sir Ian Corder CBE received a knighthood for his service as the UK's military representative to Nato and the EU, between 2013 and 2016.
"It's a huge honour", Sir Ian said, adding he had not "really come to terms with being a crusty old admiral".
In Jersey Sally Minty-Gravett, who has swum the Channel five times, was appointed MBE for services to swimming.
Ms Minty-Gravett, who has been the president of the Jersey Long Distance Swimming Club for 27 years, said "it won't change me", but it would raise the profile of the swimming club.
Four islanders - Maggie Costen, Celia Allen, Paul Owen and Pauline Graham - were appointed MBEs, while the head of Guernsey's St John Ambulance and Rescue Service, Jon Beausire, was awarded the Queen's Ambulance Medal.
Linda Walker, the wife of Sir Ian's predecessor, the late Air Marshall Peter Walker, received the Royal Victoria Order.