Lifeboat takes passengers off Herm ferry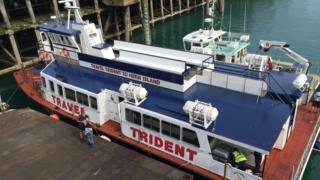 Passengers were taken off a ferry operating between Guernsey and Herm and the boat towed to safety following an unspecified incident.
Some of those on board reported hearing a crash amid thick fog at 15:35 BST.
Passengers were transferred from the Travel Trident V to the St Peter Port lifeboat and the Sarnia workboat towed the vessel to St Peter Port Harbour.
It follows an incident in April, which is still being investigated, when the same ferry was evacuated.
The incident happened while the ferry was travelling from Guernsey to Herm. There were no reported injuries.
Nathaniel Eker, one of about 20 passengers aboard, said: "We were about three quarters of the way to Herm and then suddenly we just heard this huge crash, we all fell over."
He described the "visibility as awful" due to thick fog.
The ferry firm and Guernsey's harbour authorities have yet to comment.