Brexit 'would impact' on Guernsey trade deal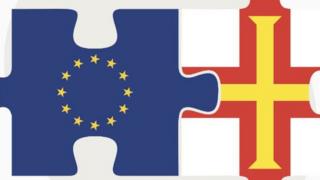 A UK vote to leave the European Union "would impact" on Guernsey according to the island's head of external affairs.
Residents of the Crown Dependencies are unable to vote in the EU referendum on 23 June unless they have lived in the UK in the past 15 years.
Deputy Jonathan Le Tocq said Guernsey "is not advocating that the UK remain or leave the EU".
But he said the Bailiwick could lose its Protocol 3 trade link to the EU if the UK voted to leave.
Protocol 3 is the section of the UK Treaty of Accession relating to the Channel Islands which allows them to have free trade of goods with the EU without being a member of the union.
"In broad terms Guernsey is a 'third country' now and will be a third country no matter what the UK decides to do in respect of its own EU relationship," Deputy Le Tocq said.
But he added the Policy and Resources Committee had been considering the effects of a Brexit on Guernsey.
"The outcome of this work suggests that there will be a need for the States of Guernsey to work with the other Crown Dependencies to negotiate with the UK to ensure its best interests are served".
These include:
The UK-EU exit agreement
The new UK-EU trading agreement including a replicated or revised trading agreement
Safeguarding the constitutional and trading agreements with the UK
Opportunities in any new UK trading relationships with the rest of the world