Alderney may bid for St Helena ferry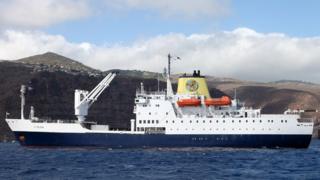 A cargo and passenger ship serving an island in the South Atlantic Ocean could be sailing from Alderney in the future if terms can be agreed.
RMS St Helena is due to be decommissioned at the end of July after the completion of St Helena's airport.
Alderney's Chamber of Commerce is talking to the owners about its future.
Nigel Lawrence, chamber member, said there was still a "long, long way" to go but the response had been "very positive so far".
Currently Alderney is served by cargo vessels and a 12-person ferry, which was reinstated in March after a government subsidy was agreed.
Mr Lawrence said: "We need this ferry, we need to bring more holiday makers in.
"The trade has suffered very badly in recent years and it's probably the main industry on the island.
"I don't think we'll find a more suitable vessel that can carry cargo and passengers.
"There are very few people who would require a ship such as this so the possible alternative will probably for it to go to a scrapyard in India, which would be a great shame."
He said a dolphin - a pillar that effectively lengthens the quay to allow larger ships to dock - may need to be added to Braye Harbour quay.
Mr Lawrence said discussions were at "a very early stage" and if chartering the ferry went ahead it would be "next year at the earliest".
States of Alderney member Louis Jean said he welcomed the move, but he had concerns over the size of the vessel and the financial viability of the service.
The British-registered vessel can carry 3,000 tonnes of cargo and a maximum of 156 passengers.
It is is one of three Royal Mail Ships still in service and was built in 1989 specifically to supply St Helena.