Guernsey 2016 election 'illegal', candidates claim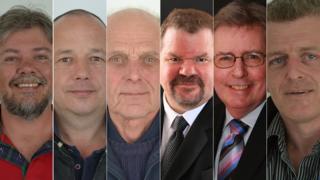 Guernsey's 2016 election was "illegal" according to six unsuccessful candidates who are calling for an investigation.
The six men claim a States-funded course offered to female candidates only was "discriminatory and unfair".
The one-day Women2Win course was set up with the aim of encouraging more "women of high calibre" into the States.
The Registrar General's office said it had not yet received the letter of complaint so could not comment.
Of the 19 women who stood in the election 12 (63%) were elected, while 26 (43%) of the 62 men who stood were elected.
The election saw the number of women in the States rise from 10.6% to 30% of all members, while the size of the States fell from 47 to 40.
Ray Marshall, one of the six, said: "We're all for diversity, no problem at all with women being in power, that's not the issue."
He said they had taken legal advice and wanted the "blatant breach" of the law to be investigated.
Mr Marshall, who finished last in his district, said he did not think it affected the results.
The other candidates who signed the letter were Greg Archer, Neil Forman, Michael Henderson, Martyn Roussel and Neil Shepherd.
Women2Win course literature
A bespoke skills based programme to support and encourage more female participation in the States
The States needs to change in order to win the trust and confidence of the people of Guernsey and in doing so encouraging a more diverse representation at the Assembly
Women2WinGSY is campaigning to promote more of the brightest and best women the community has to offer and further convince the people of Guernsey of the benefits of putting their trust in female candidates
Guernsey needs a modern and rejuvenated States Assembly, made up of the most talented and able women and men the Bailiwick has to offer - because of this your community needs you
The six men believe an amount equal to the cost of the course, which due to States funding was provided at no charge, should be included on the expenses forms of those who took part.
Under election rules the actual monetary value of a service must be declared, rather than the cost paid.
Expenses declaration should have been returned by all candidates by 11 May - 14 days after the election.