Guernsey Clematis gets 28th Chelsea medal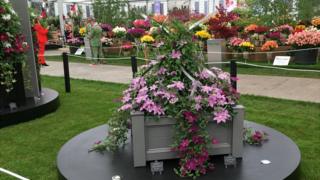 Guernsey clematis grower Raymond Evison has won his 28th Gold medal at the RHS Chelsea Flower Show.
The breeder and worldwide exporter of the plants has one of the world's largest specialist clematis nurseries.
Mr Evison said he was "delighted", but "as always it's the team here and the team back at home who pulled it all together".
The firm launched two new clematis cultivars, bred and developed in Guernsey, at the show.
The Clematis Volunteer, named after the volunteers at the Royal Botanic Gardens Kew, and the Clematis Tekla.
Landscape architect Stephen Welch won a gold medal for his artisan garden, which was based on his work on the gardens at Les Bourgs Hospice.
The Royal Bank of Canada Garden, which has been donated to Les Cotils, in St Peter Port, was awarded a silver gilt.
Designed by Hugo Bugg with a theme of celebrating water as "an entity sacred to humanity", the garden will be moved to the 12-acre charitable trust in partnership with Floral Guernsey after the show.
Fiona Naftel, managing director of Les Cotils, said: "[This] will not just benefit our organisation, but will benefit Guernsey as a whole, with the public being encouraged to visit and use the garden."
Mr Bugg said: "I am delighted that after the show, the garden will be relocated and will help create a community focal point in Guernsey."
He said it was "immensely gratifying" the many hours of work would be "used and enjoyed for many years to come".