Shakespeare text translated by Victor Hugo's son to be restored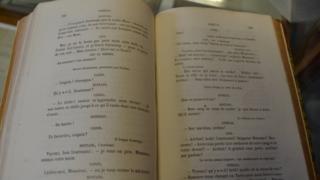 A rare, personally inscribed, first edition of Shakespeare's complete works that was translated into French by Victor Hugo's son is to be restored.
Francois-Victor Hugo's translation is one of the most well known interpretations of Shakespeare's work in French and is still used.
The book is kept in a library in Guernsey, where Francois-Victor lived while his father was in exile.
Librarian Dinah Bott described the work as "invaluable" to the Priaulx Library.
She said: "This is an extremely interesting and important part of the library. It is impossible to give it a value as these items do not come up for sale very often."
The first editions of the works were published in 16 volumes, between 1859 and 1866.
Mrs Bott said what makes it so important and rare is the personal inscription Francois-Victor wrote to his close friend Hennet de Kesler.
She said: "In these dedications Hugo refers to Kesler as 'my companion;' François-Victor refers to him as 'my companion in arms and ideas,' and as his 'ami.'"
Finance company Ravenscroft is paying for the work but did not reveal how much it would cost.
Francois-Victor completed the translations while living in exile with his family in Guernsey.