Guernsey States committee presidents voted in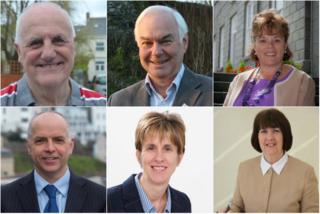 Politicians have elected 11 of the 12 presidents for the new States bodies.
Peter Ferbrache, Paul le Pelley, Michelle le Clerc, Barry Brehaut, Heidi Soulsby and Mary Lowe will lead the six principal committees in Guernsey.
They are Economic Development; Education, Sport and Culture; Employment and Social Security; Environment and Infrastructure; Health and Social Care; and Home Affairs.
States members also voted in the presidents of five smaller assemblies.
Several candidates were elected unopposed. The election for the president of the Transport Licensing Authority has been deferred until Wednesday.
The make up of the Policy and Resources Committee - the president of which holds the island's highest political position - was decided last week.
BBC News App users: Click here to see the full results
Guernsey committee presidents at 11 May 2016
Committee
Deputy's name
Economic Development
Peter Ferbrache
Education, Sport and Culture
Paul le Pelley
Employment and Social Security
Michelle le Clerc
Environment and Infrastructure
Barry Brehaut
Health and Social Care
Heidi Soulsby
Home Affairs
Mary Lowe
Scrutiny Management Committee
Chris Green
Development and Planning Authority
John Gollop
States' Assembly & Constitution Committee
Matt Fallaize
Transport Licensing Authority
Decision deferred until next Wednesday
Overseas Aid and Development Commission
Emilie Yerby
States' Trading Supervisory Board
Dave Jones
The remaining members of the committees, authorities, boards and commission will be elected on 18 May.