Damaged Herm ferry returns to service after 'collision'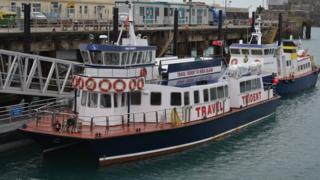 A passenger ferry damaged in a "collision" while travelling between Guernsey and Herm has returned to service.
Passengers were transferred from the Travel Trident V to one of her sister ship Trident VI after the incident on 22 April.
The captain has been suspended and a report into what the ferry hit and the cause has yet to be released.
The repairs included a new rudder and the replacement of two steel sections.
The starboard propeller was also damaged in the collision and the gearbox was stripped out to check for damage.