Guernsey Policy and Resources Committee chosen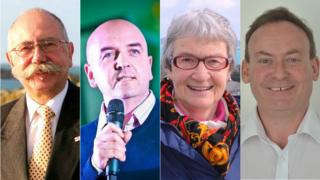 Two former chief ministers have been voted onto Guernsey's first Policy and Resources Committee.
Deputies Jonathan Le Tocq and Lyndon Trott have both served in the top job, which no longer exists in the new system of government.
They will be joined by Deputies Al Brouard and Jane Stephens.
Mr Brouard was elected ahead of Deputy Lindsay de Sausmarez, who was one of Committee President Gavin St Pier's four nominees.
All four were seconded by Deputy Peter Ferbrache, who lost out by a single vote in the presidential election on Wednesday.
Mr Brouard was the only candidate to stand against those nominees. The poll topper in the West district at last month's election has served in the States since 2004.
Mrs de Sausmarez is serving her first term after finishing second in the South East district election.
The vote was 28 for Deputies Stephens and Trott; 27 for Deputy Le Tocq; 25 for Deputy Brouard and 20 for Deputy de Sausmarez.