New States of Guernsey is sworn in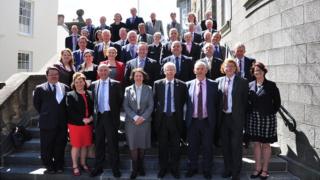 The 38 successful candidates in Guernsey's general election on Wednesday have been sworn into office.
Twenty serving deputies, four former deputies and 14 first-time deputies took their oaths before the Royal Court and take up their posts from midnight.
The four-year term of the current States ends just before midnight.
The new members are due to serve a term lasting for four years and three months as the election date is moving from April 2020 to June 2020.
Ten sitting deputies lost their seats in the election, which saw the number of deputies cut from 45 to 38.
The deputies will join the two States of Alderney representatives Louis Jean and Graham McKinley to make up the the new smaller Guernsey States of Deliberation.
The committee positions within the new government will be decided over the course of the next month over four meetings.
4 May - Election of president of Policy and Resources Committee
6 May - Election of members of Policy and Resources Committee
11 May - Election of presidents of six principal committees
18 May - Election of members of six principal committees and the presidents and members of the other committees and bodies