Guernsey Election 2016: Four ministers ousted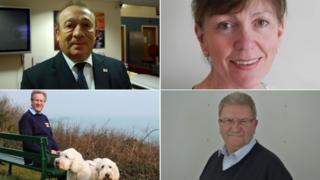 Four government ministers have lost their seats in Guernsey's 2016 general election.
Commerce and Employment Minister Kevin Stewart, Culture and Leisure Minister Mike O'Hara, Education Minister Robert Sillars and Environment Minister Yvonne Burford all failed to be re-elected.
They and six other sitting deputies will not be in the next States, which sees four former deputies return.
Across the island, 21,803 people voted on Wednesday - 7% more than in 2012.
Look back on our live coverage of the night as the results unfolded
Analysis from political reporter, Simon Fairclough
Robert Sillars, Kevin Stewart, and Yvonne Burford all failed by two or three places to retain their seats, while Mike O'Hara missed out on re-election by one place.
Deputy O'Hara sensed that this was one election too far for him, falling short by 120 votes, but the other three Policy Council members may need to look no further than high-profile contentious issues with which they were politically involved.
In short - Deputy Sillars' support of the closure of St Andrew's Primary School and proposed scrapping of the Grammar School; Deputy Stewart's seemingly unwavering support of Condor Ferries in the wake of continued problems during 2015; and Deputy Burford's association with an ultimately disintegrated Transport Strategy.
Of course, all have also achieved a significant amount during the last four years, but as other senior politicians have found out to their cost it's ultimately the higher profile ministers who carry the can for their departments.
Deputy Yvonne Burford lost her seat in the West, polling 1,033 votes.
Deputy Kevin Stewart, who came second in his St Sampson district in the 2012 election, polled 927 votes on Wednesday, putting him ninth in a race for six seats.
Deputy Stewart had tweeted earlier in the night about @YvonneBurford losing her seat only to lose his own an hour later.
The South East district meanwhile said goodbye to two sitting ministers.
Culture and Leisure Minister Mike O'Hara, who has served as a deputy for 16 years, came 6th out of 13 candidates.
Under the previous electoral system, Deputy O'Hara would have been elected - albeit at the bottom of the poll - but with the number of deputies in that district reduced from six to five, he will not be part of the next government.
He told the BBC: "I came into this election not being very confident... I've done a lot for a quarter of my life.
"I'm bitterly disappointed I'm not able to continue [but] I can go out thinking I've done a good job."
Deputy Robert Sillars, the Education Minister, who finished second in the 2012 elections, came 7th this time around.
Other deputies to lose their seats were Hunter Adam, Darren Duquemin and Sandra James in the Castel, Michael Hadley in the South East, Gary Collins in the Vale and Arrun Wilkie in the West.
Guernsey Election 2016 : Elected candidates
Castel - Richard Graham, Chris Green, Barry Paint, Mark Dorey and Jonathan Le Tocq
South East - Heidi Soulsby, Lindsay De Sausmarez, Peter Roffey, Rob Prow and Victoria Oliver
St Peter Port North - John Gollop, Charles Parkinson, Lester Queripel, Michelle Le Clerc, Marc Leadbeater and Joe Mooney
St Peter Port South - Peter Ferbrache, Jan Kuttelwascher, Dawn Tindall, Barry Brehaut, Rhian Tooley
St Sampson - Lyndon Trott, Paul Le Pelley, Jennifer Merrett, Gavin St Pier, Jane Stephens, Carl Meerveld
Vale - Matt Fallaize, Dave Jones, Mary Lowe, Laurie Queripel, Jeremy Smithies and Sarah Hansmann Rouxel
West - Al Brouard, Andrea Dudley-Owen, Emilie Yerby, David de Lisle and Shane Langlois