Guernsey jurat and D-Day veteran awarded Legion d'Honneur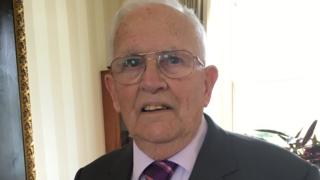 A retired Guernsey jurat has been given France's highest military decoration for his role in the D-Day Landings.
Jim Jehan received the Légion d'Honneur from the Honorary French Consul to Guernsey, Mme Odile Blanchette.
The Deputy Lieutenant Governor, serving and retired jurats, Mr Jehan's family and his friends attended the ceremony.
Mr Jehan was 21 years-old when he landed on Juno beach in Normandy in June 1944.
Deputy Lt Gov Sir Richard Collas said: "Jurat Jehan has served his country and his island selflessly and with distinction, helping to bring peace and justice to both.
"We can all be grateful for the significant contribution he has made and I'm delighted to have been present at this important ceremony today."
Sir Richard said the Office of the Lieutenant Governor believed there could be more veterans from Guernsey who would be eligible for the award.
"Anyone who thinks that a member of their family may qualify to receive this prestigious decoration should contact the Office of the Lieutenant Governor for advice on how to apply," he said.