Guernsey States shake-up costs 'kept to minimum'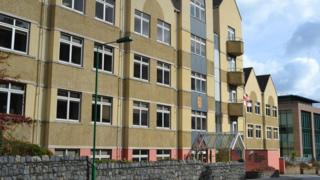 The cost of changing to a new system of government is being "kept to a minimum", the chief executive of the States of Guernsey has promised.
The States will move from a ministerial to committee style of government next month following the 27 April general election.
Areas of government responsibilities will be merged and re-named under the new system.
Thousands of pounds have been spent on new signage and stationery alone.
Paul Whitfield said: "We've driven down costs substantially; in fact comparable exercises elsewhere have cost well over £1m.
"We managed to do all our signage and main notices for just over £40,000".
How much to overhaul Guernsey's government structure?
"One-off, essential costs" to set up the committee system is a maximum of £530,000 broken down as follows:
Project lead in administration: £145,000
Designate appointments to develop operational schedules and prepare for new committee structure: £245,000
Communication: £40,000
Human resources staff: £60,000
Reconfiguring systems: £10,000
Ancillary staff costs: £30,000
Rebranding following the changes:
New signage: £40,000
New stationery: £3,300
Changes to social media and websites: £400