Commonwealth memorial stones installed for two Guernsey WW1 dead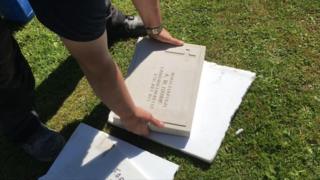 Two Guernseymen who died from injuries received in the First World War have been commemorated with memorial stones.
The Commonwealth War Graves Commission has been installing and cleaning stones in cemeteries around the island.
It works to preserve the memory of the service men and women who gave their lives in both World Wars.
Craftsmen placed the stones in St Andrew's churchyard and Candie Cemetery for Able Seaman John William Helman and Cpl Alfred William Hannis.
Able Seaman Helman died on February 28, 1920 aged 24 from ill health caused by gassing during the First World War. Cpl Hannis, of the Canadian Engineers, died on 12 July 1921.
The Commission's regional supervisor for the south west, Steve Stewart, said: "We are always very pleased to be able to place headstones to honour those who fought in both world wars."
The organisation said the two men were "either previously unknown" to them and had not been added to its list of casualties or their burial place was unknown and they were named on a memorial.
Craftsman Ashley Vearncombe, said it was a "real honour" to be in the island: "It always hits me that every name that you see on a headstone is a young life.
"I'm an ex-serviceman and it means so much to me - that it's not just a name, it's not just a piece of stone that I'm putting in to get paid at the end of the month.
"This is a man, woman, sometimes boy, sometimes girl who laid down their life for their country."