Failings highlighted in firefighting foam court case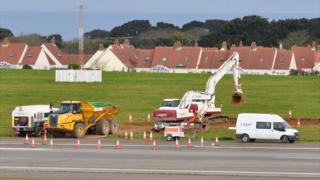 The risks involved in legal action against the makers of a firefighting foam used in Guernsey were not fully understood, a report has found.
Perfluorooctane sulfonic acid (PFOS) was in the foam used at Guernsey and Alderney airports until the year 2000.
A court case against its makers 3M ended with the island dropping the case in February at a cost of £8m.
The management of the decisions involved should have been better, PricewaterhouseCoopers found.
A review into the decision by the Public Services department to take 3M to court found the strategy went from low to high risk.
Deputy Chief Minister Allister Langlois said: "The PFOS claim involved a complex and major series of decisions taking place over a significant period of time.
"It is clear from the report that the governance and management of the decision and process could and should have been better."
Mr Langlois said they would consider how to ensure improvements were made in the way legal advice is given and acted on.
The department hoped to recover some of the £27m earmarked for the cleanup of PFOS following groundwater contamination as a result of its use.
Manufacturers 3M argued the chemical presented no harm to the community.
The report found that it was initially thought a negotiated settlement was likely.
It says that when it became clear the case would end up in court, the States should have regularly reassessed whether this was the best way forward and provided evidence to back this up.
Public Services Minister Deputy Scott Ogier said the board accepted the report's recommendations.