Guernsey waste to be sent to Sweden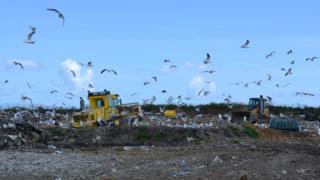 Guernsey's rubbish will be exported to Sweden for treatment from 2018, the States of Guernsey has announced.
It will mean a reduction in the amount of waste landfilled, which is the island's current method of disposal.
Eighteen companies expressed interest with firms in Belgium, Holland and Sweden shortlisted.
The Public Services Department (PSD) said the three-year contract with Geminor UK was the cheapest and most environmentally friendly.
The option of exporting the waste to neighbouring Jersey, which has a energy-from-waste incinerator, was rejected as too expensive.
Guernsey waste strategy
Continued attempts to increase the amount of household waste recycled to 70%
Remainder sent to Longue Hougue plant to become refuse derived fuel (RDF)
Material shipped to the UK and using Geminor UK's existing network onto Sweden
The plant will then use the RDF as a fuel to produce heat and electricity
Any materials left after processing will be dealt with by the operator
Since 2010, the amount of waste landfilled has fallen from more than 35,000 tonnes to less than 30,000.
This includes about 4,000 tonnes of "special waste", such as asbestos and road sweepings, which is not suitable for export and will continue to be disposed of at Mont Cuet landfill.
The contract is for between 20,000 and 25,000 tonnes of processed waste to be exported each year.
A PSD spokesman said the cost of the contract could not be revealed for commercial reasons, but was within the overall project costs of £29.5m.