Guernsey's health department 'sorry' over Alderney doctor inquiry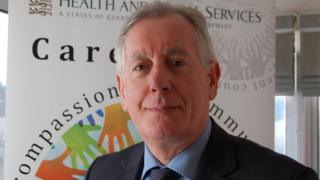 Guernsey's health department has apologised for its handling of an Alderney GP, who was investigated then cleared following the deaths of four patients registered at his surgery.
Dr Rory Lyons was unable to practise while the General Medical Council and Guernsey Police investigated.
Both cases were later dropped.
An independent report later found there was not a "sufficient weight of evidence" when concerns about the deaths were raised with authorities.
It found the Health and Social Services Department (HSSD) acted quickly to address concerns, but "failed to establish an objective, properly documented and auditable evidence base" and "did not pay sufficient attention to a number of important aspects".
The HSSD minister, Deputy Paul Luxon said: "We apologise to all those people that have been adversely affected.
"The department's determined and my board's determined that we learn from the report that we've had."
HSSD was already starting to implement eight of nine recommendations outlined in the report.
Mr Luxon said: "We're very conscious that what we need to do is to take the learnings from that report. There are nine recommendations; the board is supportive of all nine."
The ninth recommendation is for the HSSD board to appoint a senior officer to the department's management team, but that appointment can only be made by the chief executive of the States of Guernsey.
Mr Luxon said the chief executive and the deputy chief minister would host an open meeting in Alderney later in April to discuss the independent report and HSSD's response to it.
Some of the report's recommendations:
Clinical governance policies and procedures put in place
A multi-agency task force set up
Managerial capacity and clinical governance assessed and improved if necessary
Standards of evidence guidelines for investigations adopted
HSSD to secure access for independent clinical advice
Prevailing culture within HSSD should be reviewed
Public engagement in the future organisation of Alderney's health services