Alderney PoW grave sites 'could be tourist draw'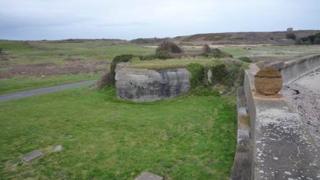 Preserving grave sites of prisoners of war in Alderney could benefit the tourism industry, islanders have been told.
Jewish Heritage group J Trails wants grave sites linked to Nazi labour camps protected from being disturbed by a cross-channel electricity cable.
Marcus Roberts of J Trails suggested tourism trails showing the grave sites.
It is not known how many prisoners, many Jewish or Russian, died in the island, but estimates exceed 1,000.
Some exploratory drilling for the cable has taken place at Longis Common, where there are graves.
Mr Roberts said: "Let's pay respect to the human beings we know were on the common, and are probably still on the common, and serve the interests of economic development as well as preserving heritage, which may be part of the economic future of Alderney as well.
"We find people really like getting in contact with history and heritage and want to have a more formal tourism and heritage offer on the island as well.
"People should not regard this as threatening, I think it will be positive for everyone and it's better to acknowledge history."
Alderney was occupied by German forces as part of the Nazi expansion into Western Europe.
Four labour camps were established to house workers who would build fortifications on the island.
Alderney Renewable Energy has said the France-Alderney-Britain (FAB) cable will eventually enable the island to export tidal power generated in its waters to European markets.
Neil Harvey, chairman of Alderney's policy and finance committee, said: "I really think that the FAB link is vitally important to the island for a whole host of reasons, and whilst being sensitive to the concerns of others, I think we should base our decisions on the known facts, and the facts are well publicised in terms of what happened here in the 1940s."