Guernsey Airport cuts to plane fees 'not enough'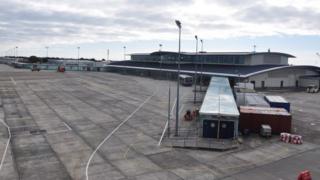 Cuts to private plane fees in Guernsey are not enough to compete with Jersey, an aviation representative has said.
Guernsey Airport has halved landing charges for members of the UK General Aviation (UKGA) group, which last year had 18,000 registered aircrafts.
The airport is also offering members the option to claim back fuel costs, as well as hotel discounts.
However, Colin Ferbrache, from UKGA, said: "I don't think it's going to attract that many aircrafts".
"We can wait and see, but unfortunately we're getting a lot of bad press in the aviation magazines, the fact that Jersey is so much cheaper."
Mr Ferbrache said the discounts for UKGA members only applied to a minority of private aircrafts coming to the island, and Guernsey Airport had rejected his suggestion to scrap landing fees for all private aircrafts for a trial month.
Guernsey airport currently charges between £5.07 and £6.29 "per metric ton or part thereof" for every private plane's arrival or departure, while Jersey only charges for landing, at £4.24 per half metric ton.
Most private aircrafts landing in Guernsey are between one and two tons, according to Guernsey Airport.
The BBC has approached the airport for comment.