Guernsey Election 2016: Nominations close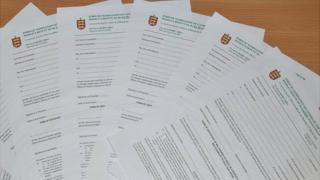 A total of 81 candidates will compete for the 38 seats in Guernsey's government.
Thirty serving deputies have stood for re-election but at least two will lose their seats in the Castel district.
All those elected in the district are standing and the number of seats has been reduced from seven to five.
All five of the women currently serving in the States are up for re-election, alongside 14 other female candidates.
With 19 women standing, it is the highest number of female candidates in a Guernsey election since the system of government changed in 2004.
But this only makes up 23% of the candidates standing in 2016.
The general election on 27 April will see seven fewer deputies elected as the number is being cut as part of a structural reorganisation.
The fall in the number of available seats has not seen a reduction in the number of candidates - 78 in 2012, 88 in 2008 and 82 in 2004.
Each candidate can claim a £600 grant towards the costs of producing and distributing manifestos, but cannot spend more than £2,300 on their election campaign.
A total of 30,320 people, just under half of the population of Guernsey and Herm, have registered to vote in the election.
The successful candidates will be sworn in for a four-year term on 30 April.