Stable crashes into house in Alderney during Storm Katie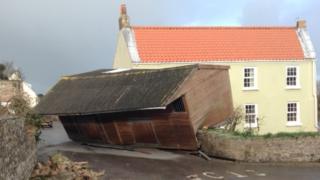 An entire stable was lifted by a gust of wind and dumped into the front of a house in Alderney as Storm Katie lashed the Channel Islands.
Homeowner Sue Abel said she "heard a crack on the other side of the house" at about 00:30 BST on Monday.
The stable - which was empty - had travelled about 50m (164ft) from a neighbouring field, Mrs Abel said.
She told the BBC: "I've never known the winds, in the 10 years I've been here, [to be] at that strength."
Emergency services arrived promptly but the stable was left in place on Monday because the winds were "still quite brisk", she added.
The front of the property suffered some damage, including a number of smashed windows.
Storm Katie disruption round-up
Storm Katie - the 11th named storm of the winter - caused considerable disruption across England, south Wales and the Channel Islands on Monday.
Gusts of up to 106mph were recorded at The Needles off the Isle of Wight as the storm hit the south of England.