200 Guernsey residents stage ferry service protest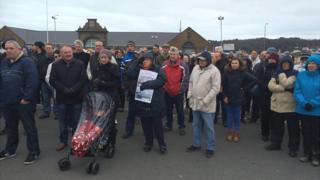 More than 200 islanders on Guernsey have staged a protest calling on the ferry operator Condor to improve its passenger services.
It follows reliability issues with Condor's vessel The Liberation which was detained in Poole on Tuesday for repairs but sailed on Saturday.
The company revealed it is hoping to charter a high-speed craft from rival firm Brittany Ferries.
Condor say it "shares the same aim" as the protesters.
The organiser of the protest, Jonah Lloyd, said people were "fed up" with what had become an increasingly unreliable service.
"I'm hoping Condor sort it out. They have been great for these islands for years but the last year has been horrible.
"The Normandie Express is the boat we need and it will prove beyond doubt that the Liberation isn't up to the job."
Condor is in talks to secure a short term charter on the 98-metre Normandie Express from Brittany Ferries.
If the five-day charter is signed the vessel will operate on the UK to Guernsey and Jersey route over the Easter period.
Guernsey Deputy Kevin Stewart said the potential deal would allow Condor to carry out any further repairs to the Liberation in time for the summer season.
A spokesperson from Condor confirmed the company was looking at charter options and said: "We share the same aim as those who were protesting today; a reliable and punctual ferry service which keeps the Channel Islands connected and supplied.
"We understand why people feel let down and we share our customers' disappointment at the disruption they've experienced because of technical problems with Condor Liberation since she came into service."
A spokesperson from Brittany Ferries said no agreement had yet been made, but added: "We have been approached by Condor and brief discussions have taken place this week."
Deputy Stewart said confidence in the service had to be restored.
"Condor runs a first-rate freight service but the passenger service has been lamentable," he said.
"Hopefully it can get this charter and start to get confidence back in the route."