Guernsey Election 2016: Candidates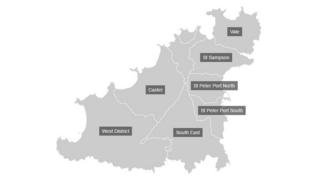 On 27 April voters will go to the polls to elect the 38 deputies who will sit in the States of Guernsey.
A total of 30,320 people, just under half of the population of Guernsey and Herm, have registered to vote in the election.
Candidates can choose to stand in any of the seven electoral districts, each of which has five or six seats.
The successful candidates are due to serve a four-year term beginning on 30 April, 2016.
There were 78 candidates at the last 2012 election, and 88 in 2008.
The number of deputies is being cut from 45 to 38 at the 2016 election.
The nomination period closed on 31 March.
Castel - Five seats
Hunter Adam
Mark Dorey
Darren Duquemin
Leon Gallienne
Richard Graham
Chris Green
Sandra James
Ross Le Brun
Russell Le Conte
Jonathan Le Tocq
Barry Paint
Neil Shepherd
South East - Five seats
Greg Archer
Brian Breban
Lindsay De Sausmarez
Michael Hadley
Robin Le Prevost
Mike O'Hara
Victoria Oliver
Stephen Prout
Rob Prow
Peter Roffey
Robert Sillars
Heidi Soulsby
John Titmuss
St Peter Port North - Six seats
Timothy Bush
Michael Henderson
John Gollop
Rob Harnish
Lilita Kruze
Michelle Le Clerc
Marc Leadbeater
Rhoderick (Robert) Matthews
Caroline McManus
Joe Mooney
Lucia Pagliarone
Charles Parkinson
Lester Queripel
Ivan Rihoy
St Peter Port South (including Herm) - Five seats
Barry Brehaut
Peter Ferbrache
Bernard Flouquet
Neil Forman
Michael Garrett
John Halker
Jan Kuttelwascher
Ray Marshall
Dawn Tindall
Rhian Tooley
St Sampson - Six seats
Michael Beaumont
Paul Le Pelley
Sam Maindonald
Carl Meerveld
Jennifer Merrett
Martyn Roussel
Karen Solway
Gavin St Pier
Jane Stephens
Kevin Stewart
Lyndon Trott
Tony Webber
Vale - Six seats
Garry Collins
Simon De La Mare
Matt Fallaize
Sarah Hansmann Rouxel
Trevor Hockey
Neil Inder
Dave Jones
Mary Lowe
William Newman
Laurie Queripel
Jeremy Smithies
West - Five seats
Al Brouard
Yvonne Burford
David de Lisle
Andrea Dudley-Owen
Shane Langlois
Rick Lowe
Martin Petit
Arrun Wilkie
Emilie Yerby