Three Guernsey sites identified for reclamation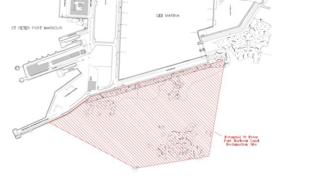 Three sites have been identified for possible land reclamation off Guernsey's east coast.
These are at Bordeaux, a site east of the QE2 Marina and extending the current site at Longue Hougue.
If the project goes ahead the land would be filled with inert waste from construction and demolition projects, which is already used to reclaim land.
The Public Services Department said the work was at a very early stage and no construction was likely until 2019.
An independent review panel will first consider the environmental impact of using the shortlisted sites, as well as taking into account other options for disposing of this kind of waste.
The plans will then have to be approved by the States and a full planning inquiry carried out before any of these sites can begin to be used.
---
Proposed timeline
2016: Review of options and high-level Environmental Impact Assessment (EIA)
2017: A preferred option selected for detailed EIA
2018: States to consider preferred option. The planning process can begin, and is expected to last more than a year
2019: States approval of planning brief, construction could commence
2020/1: Construction completion
Source: Guernsey Public Services Department
---
Two of the projects, extending the existing Longue Hougue land reclamation site to the south or a new project north of St Sampson's Harbour, would provide capacity for about 12 years.
The third site, which would provide capacity for up to 15 years, would involve infilling to the east of the QE2 Marina at St Peter Port Harbour.
This would provide the most new land, creating an area larger than the current North Beach, which was itself a land reclamation project.
A spokesman said the project would be self-financing through disposal charges over the life of the project and future land value.
Depending on the final location, it is expected the project could cost up to £30m.