Guernsey Election 2016: Nominations open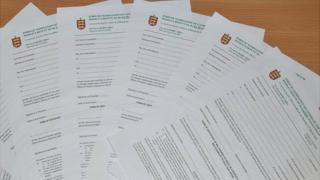 Nominations for seats in the States of Guernsey have opened, ahead of the general election on 27 April.
Potential candidates have until 16:00 BST on 31 March to deliver their applications to the Royal Court House Bailiff's Chambers in St Peter Port.
Candidates can choose to stand in any of the seven districts, regardless of where they live on the island.
There are 38 deputy seats being contested, with successful candidates starting a four-year term on 30 April.
This is seven fewer seats than in the current government, as the number is being cut as part of a reorganisation.
The two Alderney representatives who sit in the States will be unaffected by the election.
Qualifying candidates:
Must be at least 20 years old
Have to be considered as ordinarily resident in Guernsey on the date of nomination
Must sign a declaration affirming they are eligible to hold the office of people's deputy
Must have their application signed by two people whose names are on the electoral roll for the district they hope to stand in
Can only stand for election in one district
If they are States employees or public officers they must cease those roles before joining the States on 1 May
Cannot have been sentenced by a court in the UK, Channel Islands or Isle of Man to imprisonment for a period of six months or more, whether suspended or not, in the last five years
Further details: Guernsey Election 2016
Each candidate can claim a £600 grant towards the costs of producing and distributing manifestos, but cannot spend more than £2,300 on their election campaign.