Guernsey's Lieutenant Governor: Vice Admiral Ian Corder sworn in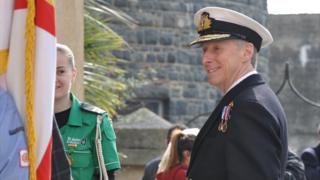 Vice Adm Ian Corder CB has been sworn in as the Queen's representative to the Bailiwick of Guernsey.
He will combine his duties as Lieutenant Governor with his role as the UK's military representative to Nato and the European Union until June.
Vice Adm Corder arrived on board HMS Severn over the weekend.
A parade involving cadets and members of the armed forces, including the Princess of Wales Regiment, escorted him to St James where he was sworn in.
The new Lieutenant Governor paid tribute to his predecessor Air Marshal Peter Walker, who died in post in September.
Vice Adm Corder said the "much-loved Lieutenant Governor" had left "very big boots to fill".
He said he understood the trust placed in him by islanders and the Queen as a custodian of the islands' "ancient and historic relationship with the Crown and the UK", which he described as "close and enduring".
Vice Adm Corder said: "In a world in which change seems to be ever accelerated I have no doubt that this relationship will need to continue to adapt, that it will need to evolve as it always has to meet a multiplying range of challenges and opportunities."
He said his job was to ensure "this precious relationship stays as relevant and as fit for purpose as possible."
Sounding a personal note he said: "Both Kathryn and I are looking forward with great anticipation to play a full and active role in the life of the islands."
He went on to lay a wreath at the Bailiwick War Memorial in memory of the fallen of the Commonwealth and a 15-gun salute was fired from Castle Cornet.