Alderney GP Rory Lyons: 'Lack of evidence' in deaths probe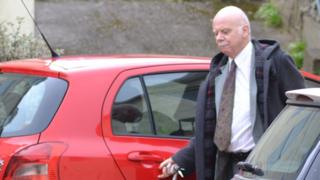 There was not a "sufficient weight of evidence" when concerns about four deaths in Alderney were raised with authorities, a report has found.
Dr Rory Lyons, one of four GPs on the island, was unable to practise while the General Medical Council and Guernsey Police investigated.
Both cases were later dropped.
The Good Governance Institute concluded while health authorities acted swiftly to address concerns some key aspects were not properly considered.
It found the Health and Social Services Department (HSSD) "failed to establish an objective, properly documented and auditable evidence base" and "did not pay sufficient attention to a number of important aspects".
Overall it criticises HSSD's structure including complex reporting lines for clinical oversight, a lack of formal processes and policies and a failure of different parts of the States to work together.
The report concluded: "Although HSSD officers acted with speed, the handling of events was progressed without sufficient consideration of all relevant factors, and must ultimately be seen as neither sufficiently proportionate not soundly based."
Concerns raised
Events escalated too quickly in a climate of pressure to act
Over-emphasis on perceived patient safety concerns at the expense of necessary due diligence processes
Lack of clarity on leadership roles and responsibilities
Insufficient consideration given to context, including impact on Alderney
Failure to properly involve relations of the deceased
Lack of effective working with other agencies
Shortage of managerial time and resources for implementing clinical governance and procedures incomplete
Evidence gathering and due diligence below expected standards
Lack of reporting to the board and poor formal record keeping
Political board unable to exercise governance function over clinical issues
Serious Incidents (SI) review not formally recorded or handled in line with procedures
SI process undermined by formal referral to police and GMC
HSSD statement to police based on flawed due diligence
Inter-agency engagement poor and hurried
Report's recommendations
Clinical governance policies and procedures put in place
A multi-agency task force set up
Managerial capacity and clinical governance assessed and improved if necessary
Standards of evidence guidelines for investigations adopted
HSSD to secure access for independent clinical advice
Prevailing culture within HSSD should be reviewed
Public engagement in the future organisation of Alderney's health services
The Policy Council of the States of Guernsey and the Policy and Finance Committee of the States of Alderney commissioned the report.
A joint statement said: "The primary purpose of the review was to inform [us] as to how HSSD handled particular issues surrounding the clinical practice of Mr Lyons in Alderney, and not to seek to apportion blame."
It said the executive summary would be published online with full copies of the report available from the main States buildings in both islands.
HSSD Minister Deputy Paul Luxon apologised for his department's handling of Dr Lyons.
He said he believed his staff "acted with integrity and good intentions" at all times but added the board was "sorry for the implications of this incident to Dr Lyons and the relatives of the patients involved in the review and the community of Alderney".
In a statement Dr Lyons thanked the families for their continued support. He said he recognised the distress suffered by the bereaved families and hoped they would now be able to find peace of mind.