Unite union stoppage over pension changes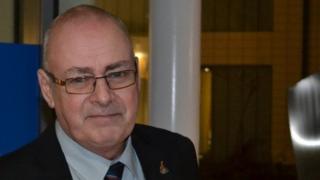 Trade union Unite says its members in Guernsey will go on strike temporarily on Tuesday to attend a meeting about public sector pension changes.
The changes include moving from a final salary pension to a career average scheme.
Guernsey's States has insisted these have to be made if the scheme is to remain sustainable and affordable for taxpayers.
The union says it is considering a legal challenge against the reforms.
'A good case'
The joint unions group, the Association of States Employees' Organisations, has agreed to the proposals but Unite insists the changes are unnecessary and in breach of contract.
Unite representative Bob Lanning said: "Our lawyers state quite clearly that we have case and that we have a good case.
"This isn't a voluntary pension scheme; this isn't a pension scheme you can opt out of; this is part of your employment. If you work for the States, you will be part of this pension scheme."
Unite members will be taking time out of work to have a two-hour meeting on Tuesday, which Mr Lanning described as "a stoppage".