Guernsey food waste treatment facility plans are shelved to cut costs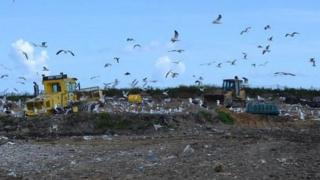 Elements of a strategy to manage Guernsey's waste have been removed in order to meet its £29.5m budget.
Waste currently goes to landfill, but a strategy of increased recycling and exporting the rest for treatment was agreed in 2012.
Vehicles to collect kerbside recycling and a facility to sort and process recyclable waste have been scrapped as the strategy was costing too much.
However, exporting food waste has been added to the strategy.
'Different animal'
Public Services Minister Scott Ogier told deputies the revised strategy would be delivered within the £29.5m budget, after the original plans were found to be "way in excess" of the amount agreed in 2014.
He said: "We have not revisited the waste strategy, just the way in which we deliver some elements of it, and by adopting a slightly different approach we believe we can achieve the objectives that were agreed by the States."
The cost of the strategy per household is estimated at between £200 and £300.
Some deputies were unimpressed with the proposals. Deputy Tony Spruce said: "I think this assembly requires a full, comprehensive report. What we have now is a different animal completely."
Meanwhile Deputy Lyndon Trott questioned whether the PSD minister was "personally happy with with the position we find ourselves in".
Deputy Ogier said revisiting the original plans was "regrettable".
Environmental campaigner Rosie Dorey said it was a "huge shame" the strategy had not yet been implemented.
"I also think it's a real shame that they've decided against treating food waste on the island and using the resulting compost on island."
The PSD Minister said the department expected to begin construction of a waste transfer station in early 2017 and have the strategy fully implemented in 2018.
No announcement has yet been made about where the island's residual waste will be exported to.