Guernsey schools' future uncertain as 11 plus scrapped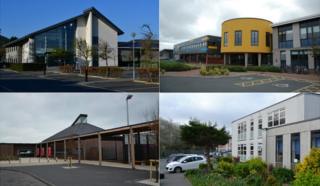 The future of four Guernsey secondary schools is uncertain as the States agreed to scrap the 11 plus selection system.
After five days of debate, politicians agreed to a further report to set out the options for closing one of the States-run secondary schools.
In the meantime, a decision on the £64m redevelopment of La Mare de Carteret schools has been postponed.
The 11 plus will stop in 2019 and be replaced by non-selective admission.
Places in States' secondary schools will be based predominantly on a feeder system from primary schools.
It is not clear what will replace the 11 plus system for awarding places for the three grant-aided colleges.
The Committee for Education, Sport and Culture, which will be created after April's general election, will be responsible for producing the report with a deadline of the end of 2017.
It has also been tasked with creating two policies: one to identify and support the most gifted children and the other for managing disruptive behaviour.
The planned development at La Mare de Carteret, which was agreed in principle in 2000, includes a 600 pupil high school, a 420 pupil primary school, a pre-school nursery, sports facilities, a centre for autism and community facilities.