Guernsey La Mare High School praised by inspectors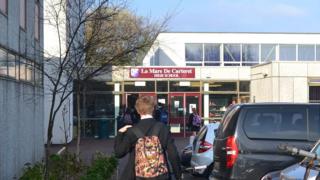 Inspectors have praised a Guernsey school previously found to have "inadequate" teaching and assessment.
A trouble-shooter was brought in at La Mare de Carteret High after a fall in GCSE results in 2011.
The 2015 validation report, carried out by Education Scotland, awarded the school the second highest grade in five of the six evaluation areas.
Head teacher Vicky Godley said she was "delighted" and "extremely proud" of the hard work of staff and students.
La Mare de Carteret High School
40% Identified as having special educational needs

94% Attendance rate for 2014 - up 2.7% from 2012

70% Of first year students start with lower than expected standard in writing
Brian Green
She said: "It has been a huge journey and we are now at a point where we have consistently high quality teaching, clear systems and students who are proud to attend La Mare and have high aspirations for their future.
"This provides an excellent platform for us to continue to improve."
In terms of exam results, the report looked at 2012 to 2014 and found the percentage of students who achieved five or more A* to C increased from about 35% to 45% and those who gained five or more A* to C awards, including English and mathematics, rose from 24% to 32%.
The Bailiwick average for 2014 was 67%.
Key strengths
The leadership of the head teacher and senior staff
The quality of teaching and learning in most subjects
Use of progress and attainment data to improve the performance
The inclusive ethos and the support provided to help students with special educational needs
Improvements in engaging parents in their children's education
High levels of participation of the motivated students in the non-curriculum activities
Improvement needed
Continue to raise attendance and setting higher targets across the school
More sharing of good practice, especially in science
The validation of one of the island's three non-selective secondary schools was carried out by a team of four inspectors over three days.
The inspectors' report found: "Overall, the quality of teaching is very good. In almost all lessons, the learning climate is calm, purposeful and positive."
A £64m redevelopment of the school is due to be voted on by the States next week - alongside an overhaul of Guernsey's secondary school system.