Guernsey's Albert Pier changes for 2016 cruise liners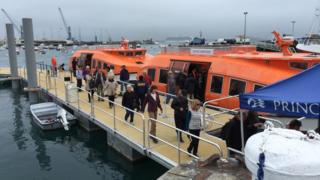 Further "improvements" could be made to cruise ship passenger arrangements at Guernsey's Albert Pier.
Guernsey Harbours said it follows feedback from islanders and other government departments.
The plans include a reduction in plant boxes, improved signage for visitors, and wider pedestrian walkways.
About 125,000 cruise ship passengers are expected to come ashore in Guernsey in 2016 - more than the record cruise liner season in 2015.
Changes introduced in 2015 at the Albert Pier - including the road layout - prompted criticism from some islanders and politicians.
Harbour director Sarah McGreevy said: "We took note of the areas of concern raised by islanders last year.
"These are reflected in these proposed changes, not only to improve the operation of the Albert Pier area during the cruise liner season but also enhance its appearance."
According to government figures, the cruise ship industry contributes £4m to the Guernsey economy.
The latest plans:
Installing semi-permanent aluminium posts and cables to replace some of the planters used in 2015
Widening a pedestrian crossing near the Albion pub in Town
Broadening the pedestrian walkway on the marina side over the slipway
Erecting new permanent and seasonal "wayfinder" signs on the piers and seafront
Appointing two seasonal marina attendants to manage the parking signs during the cruise season and instructing special constables to supervise the crossing at the Albion, replacing off duty police officers used in 2015
Permission has also been asked for new permanent and seasonal "wayfinder" signs on the piers to help cruise ship passengers find their way around St Peter Port and back to their vessel.
Mike Hopkins, director of marketing and tourism, said: "We are confident that the proposed improvements will provide a better visitor experience and help reinforce the importance Guernsey places on the cruise liner business".
Some of the changes will need to be approved by planners.